It's been a while since I've posted five things I love. Well, here they are:
1.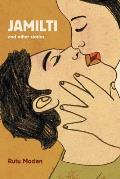 Israeli cartoonist Rutu Modan. I've been a fan of Modan's illustrations and comics for a while now. Her work melds quietly poignant stories with visual art, fully realized characters, and societal insights influenced by her own life. I highly recommend Exit Wounds and Jamilti & Other Stories. Her latest novel is The Property.
2. The Killing. This series had been on my Netflix list, lingering, for the past year or so. I knew I wanted to see it but at the same time I wasn't too interested in "Who Killed Rosie Larsen?" and dismissed it as another Twin Peaks storyline. But a friend, whose taste I trust, urged me to watch it. So I did. I ended up watching the first season in two days. Marathoned the second. Cried during the third. Originally on AMC, the drama, set in Seattle and about two homicide detectives unraveling a series of conspiracies, was cancelled twice — and saved twice. Only last week, I learned that Netflix will produce a six episode fourth and final season. The Killing will finally get a proper send-off. I have to admit I did a little dance when I heard the news.
3. English-Sri Lankan artist M.I.A. I have always loved this woman — her music, her art, her being. M.I.A.'s latest album Matangi is ridiculously great. Non-stop, in your face, heart thumping, feel it in your bones great. Rap + dance music + social issues + politics. Just take a listen.
4. Cheerios. Friends and family know that I have always loved Cheerios. I like to say it saved my life twice. Comfort food at its best. Yummers!
5. Attack on Titan. I haven't watch a lot of anime, but a friend of ours at Adorable People Studios recommended this series. Goodness gracious. It has to be one of the best TV shows of all time. Intriguing, intense, great characters, amazing plot. I'm not sure if I'll read the manga on which the show is based but I'm definitely looking forward to a second season.